Are you fond of spicy dishes? Do you like pasta tubes along with various veggies and lots of cheese? If the answer to both the questions is yes, then you will love this macaroni and vegetables dish. The combination of spices, macaroni, and colorful veggies makes this dish completely crave-worthy.
So, let us start with the ingredients.
Macaroni And Vegetables Recipe
Preparation time – 15 minutes
Cooking time – 15 minutes
Ingredients
Macaroni – 125 gm
Salt – as needed
Water – 3 cups
Oil – 2 tbsp
Minced garlic – ½ tsp
Onion, finely chopped – 1, medium
Tomatoes – 3, medium, chopped finely
Chopped mixed vegetables – 1.5 cups (you can use cauliflower, carrots, capsicum, potatoes, and baby corn)
Green peas – ¼ cup
Black pepper powder – as per taste
Turmeric powder – ¼ tsp
Garam masala – ¼ tsp
Red chili powder – ½ tsp
Cumin powder – ½ tsp
Coriander powder – ½ tsp
Water – 1 cup
Dry herbs – 1 tsp (oregano, thyme, basil, rosemary, and parsley)
Coriander leaves – 1 tbsp, fresh and chopped
Making Macaroni And Vegetables
Place a pot with 3 cups of water on medium heat. As the water becomes hot, add the salt and macaroni to it. Let it boil for a few minutes. When all the macaroni is soft, switch off the flame. Remove the excess water and keep the macaroni aside.
Now, put a pan on medium heat. Pour the oil, and as it becomes hot, add the minced garlic along with the chopped onion. Sauté those till you get a nice aroma. The onions will turn translucent while the garlic will become brown.
Next, tip in the chopped tomatoes and let them cook for about 2 minutes till they become soft.
Now reduce the flame and mix turmeric, cumin and coriander powder and red chili powder. Let them fry for just a few seconds and add garam masala powder, black pepper powder, and salt.
When the spices are cooked well, add the mixed vegetables along with green peas. Mix them well and pour the water. Stir it and cover the pan.
Let the veggies simmer on low heat for a few minutes till all of them become soft.
Finally Assembling The Veggies With Macaroni
When the veggies are cooked, mix the boiled macaroni with them. Sprinkle the dry herbs on them and give it a good mix. Check the seasoning, and if needed, you can add a little more salt or black pepper.
Your spicy macaroni is ready. Put them on a serving plate. Now add some grated cheese on the top, followed by the chopped coriander. Serve it warm.
You can also add cream on the top instead of cheese. Both cheese and cream taste yummy with hot and spicy macaroni.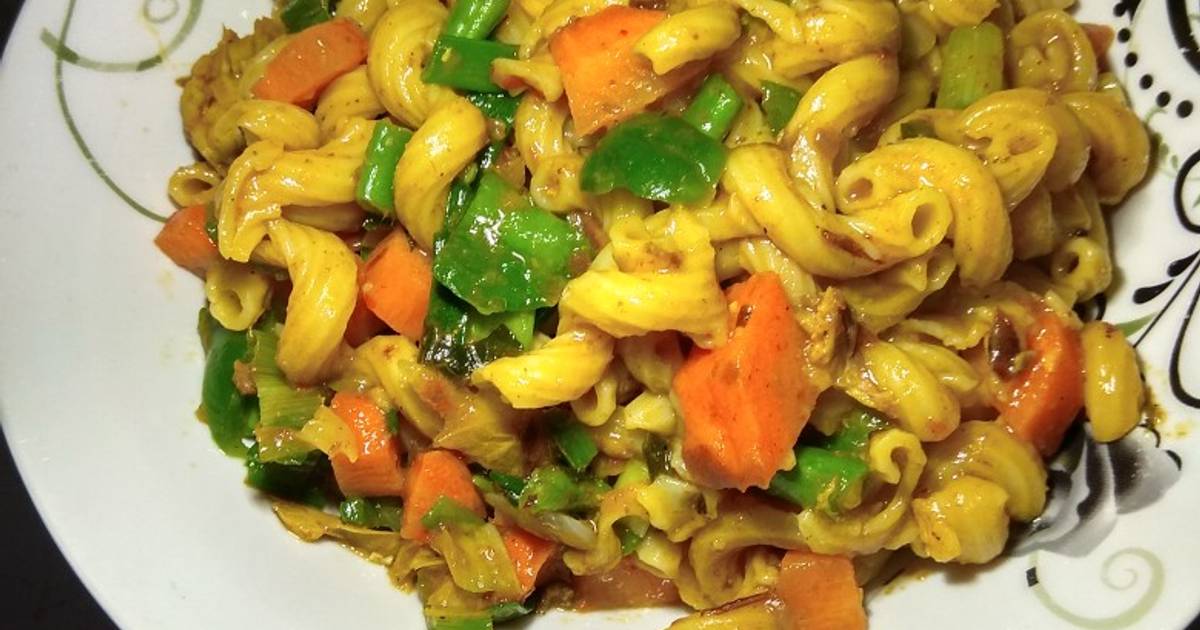 So, the next time you want to make some spicy dishes, try this macaroni recipe. All the items that I have used in the recipe are more or less present in our abode. Spare half an hour and welcome a hearty dish with so many spices and flavors. Both your family and friends will be pleased with this dish and also your cooking skill!